Every member of Red Kite staff gets a Volunteering Day each year which they can use to support a registered charity of their choice.
Our Power Platform Lead Nigel used his Volunteering Day recently to go out with Chiltern Rangers:
"It was my first time volunteering with Chiltern Rangers, so I didn't know what to expect, but it was a great day out! The project for the day was to make improvements on a stretch of the River Wye, one that runs through our Barrowcroft sheltered housing site. It was a perfect day for me - as a fisherman, I love rivers.
"There were eight of us overall - three volunteers and five Chiltern Rangers. In the morning we put in some deflectors, using logs to help re-form natural meanders in the river, which help its flow and also create a still to help plants grow. The River Wye is a chalk stream - not that common, apparently, but also why it's so clear.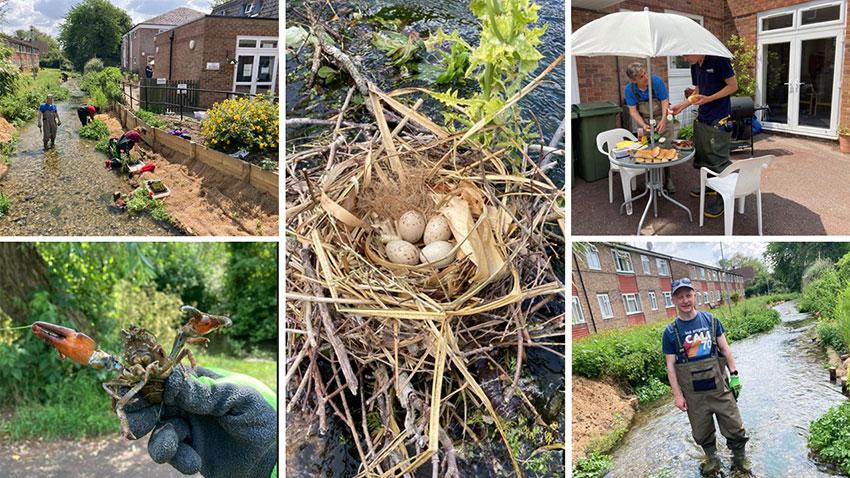 "The flow is important to help keep the gravel clear of sediment, as the trout need to lay their eggs in the clean gravel. I also saw some American crayfish, which was nice, but they actually eat the trout's eggs which is a bit of a shame. We came across a coot's nest which had some eggs, on an island alongside the gardens of Barrowcroft. We also planted plants in the banks, which helps to support the river bank structure over time. The Barrowcroft residents were so grateful for the river work Chiltern Rangers do through the Barrowcroft site, they kindly put on a BBQ for us!
"In the afternoon we waded up the river and cleared the river of litter and debris. What a great day to spend a summer's day. I can't wait until my next free Volunteering Day!"