Membership
We have current Red Kite tenants on this panel, as well as members from our local community and lastly, colleagues from our Development Team.
If you're interested in joining, we'd love to hear from you.
What's involved
Review new development projects, providing comment and feedback on suitability and design
Set the standards for new housing in terms of size, location and layout
Advise on standards of internal fittings, finishes and materials
Have input into the selection and appointment of consultants
Work with appointed consultants and contractors employed to deliver all development activity
Assist staff as required in progressing development projects
Monitor standards and outputs
Act as Development Champions on various associated groups
Take part in site visits to identify what is a good development
Comment and participate in the decanting process for our existing tenants who need to move in order to deliver new development
Ensure we achieve overall value for money from all activity we undertake
Focus on specific areas such as public relations, sales and marketing, and attending appropriate meetings and events to promote development activity
Other matters which the staff of Red Kite may raise with group members
Challenge constructively, ask questions and listen to views and the information provided.
Level of commitment: Low
The group will primarily aim to meet once every three months, or when a meeting is required. This can consist of site visits or tours, or formal meetings. Some meetings will take place virtually.
Skills you'll need
You won't need any specific skills for this role - just some enthusiasm and an keen interest in good quality new homes.
How we'll support you
We'll provide you with any relevant training needed to volunteer in this role. The role itself is fairly flexible so it should easily fit in around your other commitments.
We sometimes work virtually, using email and video calls to engage with our tenants. This means that you'll need access to the internet and a device, such as a computer or tablet, to meet with us and our network of tenant volunteers.
We know that not everyone has the equipment or confidence to use digital technology. We can provide support, including training and even access to devices to ensure that you can help to shape our organisation from the comfort of your home. Please don't hesitate to speak to us if you have any questions or concerns. You can reach us by emailing volunteering@redkitehousing.org.uk or call us on 01494 476 209.
What you'll get out of it
You'll be involved in development projects from the planning stage all the way through to delivery. You'll be able to feedback on designs and even help us choose internal fixtures and fittings.
What our current volunteers say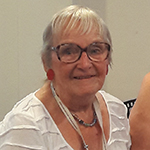 Margaret
"I have found it great to be kept informed of any changes in the structure of the company. This includes any areas that become available for building, any of our current places that cease to be of use in their current form, and plans to redevelop. We are kept informed of all changes and occasionally go out on site, either to see works in progress, or completed works. I find all this fascinating and I am sure it must be of some value to Red Kite to have our opinions."
A message from us
Richard
Project Co-ordinator
"The members of our Development Panel are invaluable to us as they help us make important decisions to shape future communities. They are given the opportunity to feedback at every stage of the development process, from initial planning through to delivery."
Apply
If you're interested in joining our Development Panel, fill in our simple online application form.