Membership
Anyone who lives in one of our homes can apply to join our Environmental Improvement Group.
If you're interested in joining, we'd love to hear from you. Take a look at the information below.
You can also see some of the improvements we've made so far.
What's involved
Make decisions about allocating funding to applications made for improvements to neighbourhoods
Play a key role in ensuring that the environment budget is allocated to projects to improve neighbourhoods and the quality of life for tenants and leaseholders
Assess the practicalities of each application and whether it is something that will really improve neighbourhoods
Assess whether applications offer value for money and are cost effective
Assess whether applications make a positive environmental and/or biodiversity contribution to the neighbourhood and fit within Red Kite's sustainability agenda.
Check that the applications have the support of others in the neighbourhood
Approve or decline funding applications which request funding of £10,000 or less
Make a recommendation to the Head of Community for funding for applications requesting over £10,000.
Level of commitment: Low
EIG will meet at least once every two months. Meetings can consist of site visits or tours, or formal meetings which will be minuted. For visits to proposed and/or completed application sites transport will be arranged where necessary and/or expenses covered.
Skills you'll need
You'll need to be great at working as part of a team and passionate about improving our neighbourhoods.
How we'll support you
You'll be supported by a member of our friendly Community Engagement team
You'll receive comprehensive training.
We use email and video calls to engage with our tenants and leaseholders. This means that you'll need access to the internet and a device, such as a computer or tablet, to meet with us and our network of volunteers.
We know that not everyone has the equipment or confidence to use digital technology. We can provide support, including training and even access to devices to ensure that you can help to shape our organisation from the comfort of your home. Please don't hesitate to speak to us if you have any questions or concerns. You can reach us by emailing volunteering@redkitehousing.org.uk or call us on 01494 476 209.
What you'll get out of it
You'll be helping us to decide where money gets allocated, and which projects receive funding
Build your skills - you'll receive training and experience
Working as part of a team.
What our current volunteers are saying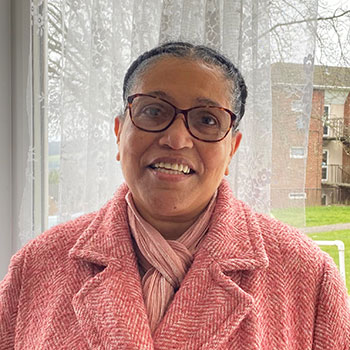 Daffodil
"I really enjoy volunteering in EIG, I've learnt so much and met so many new people. I love that we're able to help our community, and really enjoy being a part of a tenant-led organisation. If you care about your community, join us – we'd love to have you on board!"
Apply
If you're interested in joining our Environmental Improvement Group, fill in our simple online form and we'll get back to you soon.