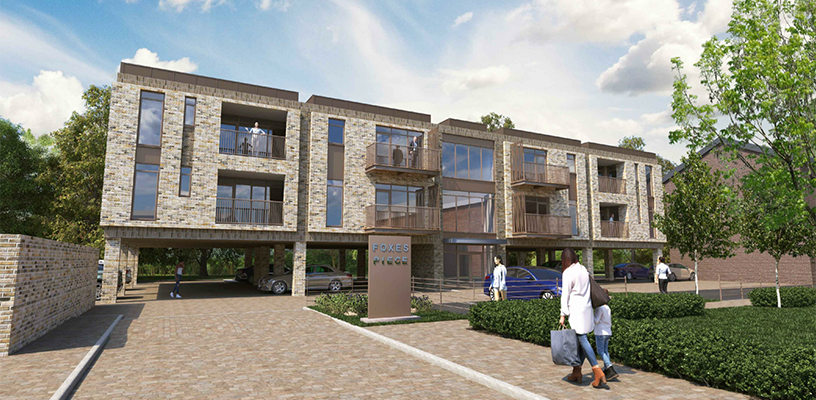 Foxes Piece
Site address: Foxes Piece, Marlow, SL7 1HE.
Original use: Car park.
Proposed use: Six two-bedroom and six one-bedroom apartments.
Latest: Submitted for planning.
FAQs
The site at Foxes Piece has been earmarked for development since 2001 when the garages were demolished by their then owner, Wycombe District Council (now Buckinghamshire Council). Red Kite took ownership of the site in 2011 when we bought the council's housing stock.
Planning permission had previously been granted to the council on several occasions, most recently in 2010 when the go-ahead was given to build six flats and four houses at the site.
The site is also allocated for development in the council's new Local Plan which was adopted in August 2019.
We are a charitable purpose organisation with the ambition to deliver truly affordable homes for the local community. There is huge local demand for housing in this area, and therefore our priority is to utilise the land we own to enable us to build much-needed housing within our communities.
We'll be seeking planning permission for 12 apartments: six two-bedroom and six one-bedroom. After completion these will be available for affordable rent, which is typically 80% of market rent.
The scheme has been designed to mitigate the risk from flooding and avoid exacerbating the risk of surface water flooding, resulting in the unique design presented.
The development will provide 45 car parking spaces, which far exceeds the council's parking standards.

If you have any concerns or questions about on-street parking or resident parking permits on the street, please direct your questions to the council who are responsible for the roads.
We're very keen to have local representation from the community on our development projects, so that you can input to the scheme design - if you're interested, get in touch and we can tell you about our Development Panel - call us on 01494 476 306.