At times, it's essential for our staff and our contractors to enter your home in order to carry out validation and condition surveys for planned investment works, inspections, or to make repairs or improvements. We'll give you notice of this and try to call at a time that's convenient for you.
Who's at the door?
If anyone asks for access to your home, you should always ask to see their ID to be sure that they are who they say they are. If you are unsure, please call us on 01494 476100 and we can confirm it for you. Please don't be worried about asking for ID - our staff and contractors are all prepared for you to ask this question!
This is what a staff member's ID card will look like: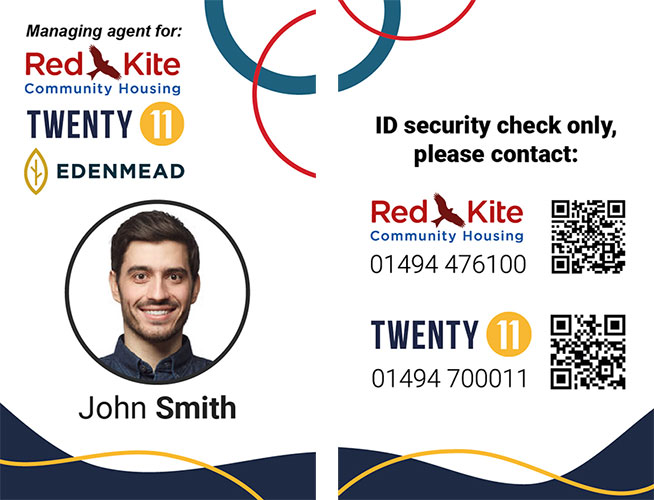 Why we visit your home
These are some of the reasons we may visit, and when those visits take place:
To ensure new tenants are settling in well and to see if there's anything we can help with, one of our Community Specialists will carry out a welcome visit six weeks after you have moved into your home.
One of our Community Specialists will visit you six months after you have moved into your home, as a follow-up to your welcome visit.
At least every five years, one of our team of Community Specialists will meet with you and carry out a home check to make sure everything is OK, and you are happy in your home and with your tenancy. Home checks are a chance for you to tell us about repairs or improvements that might be needed, and for us to make sure your home is safe, secure and being maintained.
If you tell us that you wish to end your tenancy, we will arrange a pre-termination inspection to assess the condition of your home and advise and help you with the process for returning the home to us.
As a landlord, we're legally responsible for our tenants' gas safety, and the landlord-owned appliances within your home. This is a responsibility we take very seriously, and it means we must arrange for a Gas Safe registered engineer to carry out a gas safety inspection check every 12 months. Under your tenancy agreement you must allow us access for this. Failure to do so means we could take legal action to gain entry to your home.
We're required to take action to prevent electrical incidents such as shocks and fires within our tenants' homes. To meet these requirements, we carry out a five-year Electrical Installation Condition Report (EICR) - like an MOT of your electrics - which will highlight any issues we need to rectify.
These appointments usually take two to three hours and we do require someone to be present throughout the appointment. We know this isn't always easy with work and life schedules and therefore recommend that a trusted friend or family member may be able to assist.
Allowing us to carry this out is a requirement of your tenancy agreement and we may be able to tie an appointment in with your five-yearly home check to make this easier for you. When you're due for an EICR, we'll send you a letter on what to do next. Please follow the advice on this, and if you have any questions, get in touch with us.
We regularly carry out stock condition surveys of all our homes to enable us to update the information we hold on them.
Every three years we have to arrange for a Chartered Surveyor to provide assurance on the quality of homes that we use to secure our debt. The last survey was in March 2023, and involved visits to around 600 of our tenants.
If an emergency repair to your home is required, one of our Technical Officers will visit to assess what needs to be done and arrange for the repair to be carried out.
In an emergency - for example, a bad water leak - we may need to enter your home without giving you written notice. If this happens, we'll try to contact you first. In exceptional circumstances, if we're unable to contact you, we may need to break in, but if we do we'll make your home safe and secure before we leave.
If you'd like to find out more about repairs, visit our repairs section.