On Tuesday 23rd March we carried out our first eviction since the lifting of the government-enforced 'stay' on all evictions, except for exceptional cases, imposed during the Covid-19 pandemic.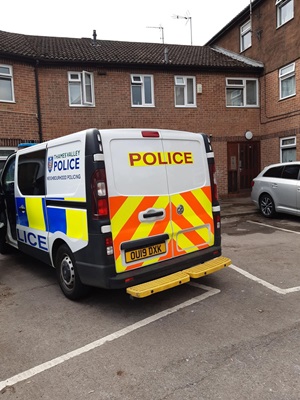 In 2019, residents at Mahoney Court in High Wycombe first reported antisocial behaviour to us and Thames Valley Police. Since then, we have worked in close partnership with Operation Stronghold to try and put an end to the ongoing nuisance.
Louise Phelps-Jeffrey, our Antisocial Behaviour Specialist, served notice on the resident using grounds to tackle serious antisocial behaviour in the Housing Act 1988. The case was heard in High Wycombe Magistrates Court last December when an outright order for possession was made, with an order to recover £6,614.32 of arrears. Thames Valley Police were present when the eviction took place.
The resident advised he had arranged alternative accommodation, but we also signposted him to the local authority in case he needed their help.