Volunteers' Week, which this year runs from 1st – 7th June, is an annual event celebrating the contribution made by millions of volunteers across the UK. Here at Red Kite, we offer a wide range of volunteering roles, many of which allow you to get hands on and have a say in how we manage different areas of our business. To celebrate Volunteers' Week, we've been busy collecting photos and stories from staff and volunteers about their experiences of volunteering at Red Kite.
Alan and Daniel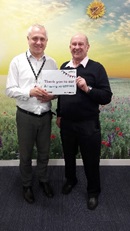 Alan is one of our most regular volunteers who comes into the office twice a week to do our telephone surveys. He calls other tenants to get their feedback on Red Kite's services and is able to feed this back to the right department if there are any issues. Alan says "I enjoy meeting the staff and working with Daniel, they are all really great. I feel as a tenant myself, getting the feedback from other tenants is a plus for Red Kite, as we are getting the true picture of what they think of our services."
Daniel works as an insight hunter and is responsible for gathering data, so Alan's work is essential to helping Daniel in his role. Daniel says "The work Alan does is invaluable, we get feedback from customers and can analyse the data which helps us improve our services. With Alan conducting the surveys we get an accurate representation of what we can be doing to make life better for our tenants."
Thank you Alan for all you do for Red Kite!
Lucy and David, Dorothy and Margaret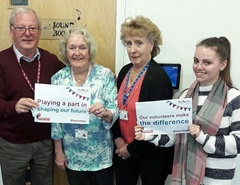 Dorothy and Margaret have been volunteering with Red Kite since we began. They have been such positive influences throughout the years on the decisions we have made to improve services for tenants. Dorothy says "It's great to be able to contribute, we have done so many years and it's nice to know that you are making a difference."
Both Margaret and Dorothy have been hard at work as part of the Procurement group looking at the renewal of our grounds maintenance contracts. Margaret spoke to us about being on the original group for Red Kite's first ever grounds maintenance contract and how things have really developed and evolved over the years: "We don't use as many trees now, as everything is digital and much simpler!"
David has worked with both Dorothy and Margaret for a number of years and says "The experience they bring to the group is vital in ensuring the audit runs smoothly. Having them involved from the beginning, with the knowledge they have into the process is so important."
Thank you Dorothy and Margaret for helping us shape our future!
Katherine, Valaine and Derick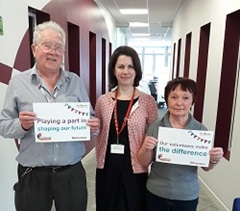 Derick and Valaine came in to have a cup of tea with Katherine our Procurement Manager to discuss whether they would like to join our Procurement Group. We have been looking to get some new members on board, and they both came in to find out a bit more about what the role would entail, and to see if it was for them!
We meet with our volunteers regularly here at Red Kite and are quick to offer any additional information and support they may need. We want to ensure they are always prepared and have an understanding of the groups they volunteer on.
Thank you Derick and Valaine for being amazing volunteers!
Deborah and Patricia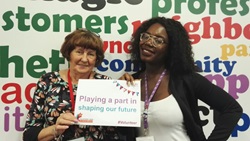 Patricia is one of our very proactive volunteers who has been attending community surgeries to hear the views of our customers and give feedback on outstanding issues to our Repairs team and Feedback team to action. Deborah manages our feedback and works to drive improvements from the information we gather. Deborah and Patricia recently joined forces to attend a Community Organising Issues Workshop with Community Impact Bucks to represent Red Kite and discuss some of the key themes our community have raised. They are looking forward to seeing what impact they can have in partnership with the other represented organisations to provide solutions to some of the issues our community and customers face. Patricia and Deborah have built a wonderful rapport and both enjoy working together – there is always laughter as they have a similar sense of humour. Patricia's impact during her time as a volunteer has not gone unnoticed – we are proud to say she is the newest member of our board. Congratulations Patricia!
We'd like to say a massive thank you to all our volunteers and hope their stories will inspire you to get involved in the many rewarding benefits of volunteering. If you're interested in finding out more, please take a look at the Volunteering page on our website. We provide training to all our volunteers and also offer time credits for every hour of volunteering you spend with us.