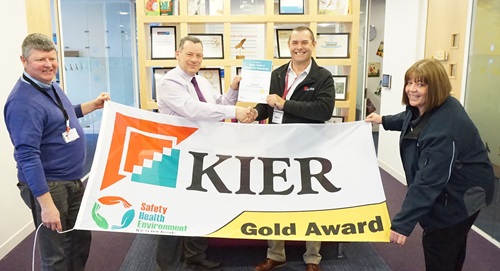 We're delighted to announce that our building contractors Kier have received a Gold Award for achieving 12 months without a reportable accident for the second year in a row. This means their Accident Incident Rate (AIR) - a benchmark figure set annually by the Health & Safety Executive (HSE) - is currently zero.
This is a fantastic achievement for Kier as the current HSE benchmark figure (which the construction industry aims to be lower than) is set at 398; while all contracts start at zero AIR, if any reportable accidents occur, the AIR rating rises.
Kier staff, Brendan McDonagh (Partnership Manager) Stephen Troubridge (Regional Safety, Health & Environment Manager) and Jane Brewer (Assistant Contract Manager) came to our offices on 22nd March to receive their well-deserved award from James Brownbill.
Geoff Saunders (Kier Partnership Director, Housing Maintenance) said:
"This represents a momentous achievement for everyone involved in the safe working practices of the business and positively highlights the importance of focusing on health and safety."