On Wednesday 13th September we held our Annual General Meeting (AGM) in our High Wycombe offices.
Tenants, members of staff, and board members gathered to talk about our performance and accounts over the last financial year (2022/23).
The meeting was kicked off with a welcome from our Board Chairman, Mike Gahagan. It was Mike's last AGM and he took the chance to thank our dedicated tenants and staff for all that they do for Red Kite.
Our Director of Resources, Blaise Jennings, then took to the stage to share the accounts for 2022/23 and answer any questions, before we moved on to the voting section of the evening.
Our new Board members were then elected. Take some time to meet the Board and find out more about them.
Our Resident Representative Team (RRT) was then elected. Find out more about what they're involved in and the role they play at Red Kite. Candida, the Chair of RRT, also shared an update on the group's activities and achievements from the year. New members Ajmal Sarwar and Ron Fowler were also elected onto the group.
Trevor Morrow, our Group Chief Executive then shared information from our Annual Report, and the meeting was closed off with a final message from Mike.
Here's a quick overview of our year 2022/23 - for more information you can read the latest annual report in full: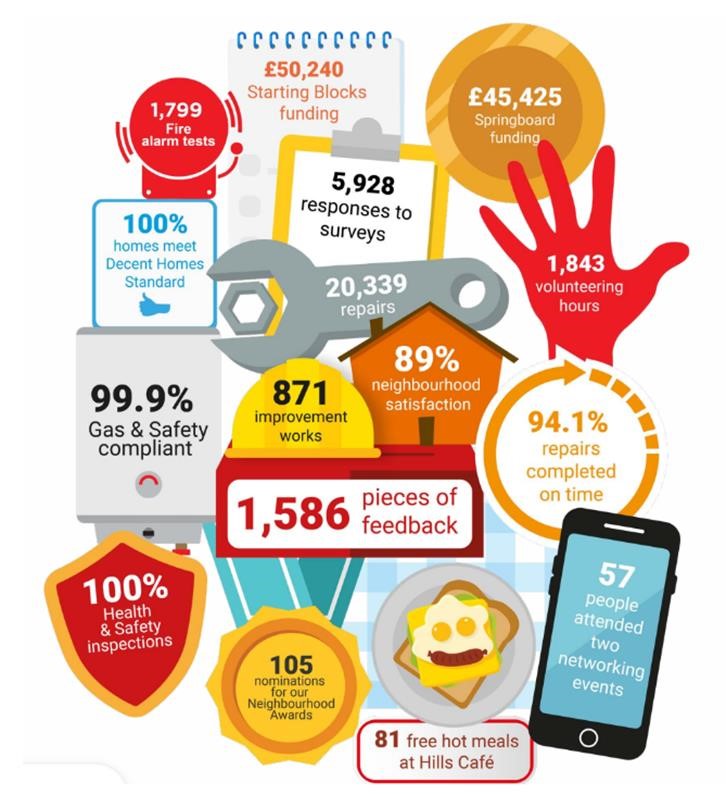 Text from the graphic:
1,799 Fire alarm tests
100% homes meet Decent Homes Standard
£50,240 Starting Blocks funding
5,928 responses to surveys
20,339 repairs
871 improvement works
£45,425 Springboard funding
89% neighbourhood satisfaction
1,843 volunteering hours
94.1% repairs completed on time
99.9% Gas & Safety compliant
100% Health & Safety inspections
1,586 pieces of feedback
105 nominations for our Neighbourhood Awards
81 free hot meals at Hills Café
57 people attended two networking events