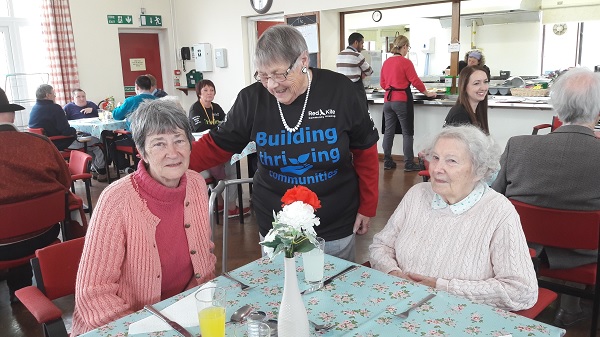 At the end of April we held our annual Community Morning which gave Red Kite staff the opportunity to get out of the office for a morning to do their bit in the local community. 130 staff and volunteers had a fantastic time getting involved in 14 different projects across the Wycombe district, ranging from planting flowers with children at Booker Hill School and clearing scrub with Chiltern Rangers, to spring cleaning at High Wycombe Shopmobility, chatting to vulnerable adults at the Princes Centre and painting benches at some of our sheltered schemes.
At Lady Ryder Memorial Garden, staff had great fun working as a team to relocate a huge tubular garden frame from one side of the walled garden to the other without dismantling it. They finally moved it into place over a crop of strawberries and we're delighted to say that Lady Ryder Memorial Garden were so pleased with our efforts they've asked us to go back again!
Staff who went to Safe Haven Dementia Centre chatted to members of the community suffering with Dementia and Alzheimer's and played a game to make as many words as possible out of the word 'Constantinople'; a huge team effort saw them come away with 140 words, which was a brilliant achievement and a fun way to involve the residents.
We had positive feedback following our paint job on the counselling rooms at Bucks Mind. Bev said: "We are so pleased with how the rooms now look and this will make a real difference to our clients/volunteers. Thank you to your great staff, they were all helpful and did a great job."
Staff also helped to cut back brambles at Beechview School, tidy up the grounds at Wrights Meadow Centre, paint, garden and do DIY at High Wycombe C of E School, as well as help Wycombe Museum with moving books and packing up vintage crockery.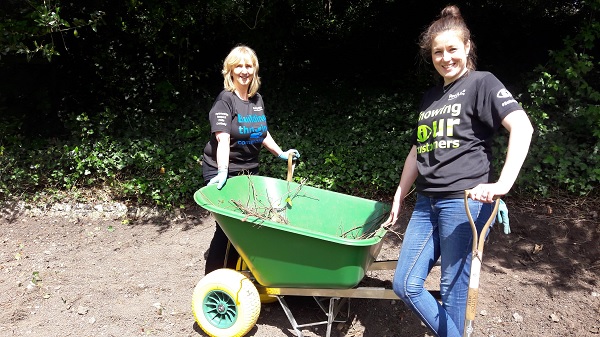 After the event at High Wycombe Shopmobility, Claire said: "Thanks again to everyone for all their wonderful help today, it has made a big difference to us and I think they learnt a bit about what we do and the service we provide to the community."
There was a real buzz once everyone got back into the office and a strong sense of solidarity from all the work we'd done together across High Wycombe. Staff really enjoyed the opportunity to make a positive impact on the local community and are already looking forward to next year's events!