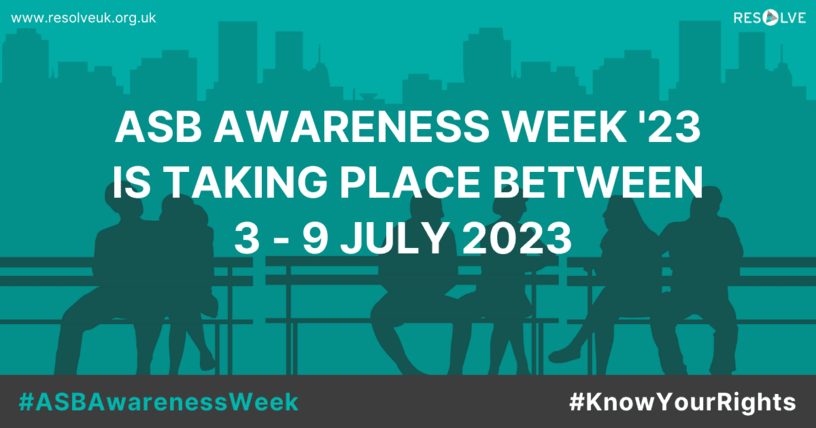 Red Kite has joined a national campaign to tackle antisocial behaviour (ASB) and keep people in our community safe.
Running from 3rd to 9th July, ASB Awareness Week 2023 aims to encourage communities to take a stand against ASB and highlight the actions that can be taken by those experiencing it.
Organised by Resolve, the UK's leading ASB and community safety organisation, the week features a series of events all across the UK involving councils, police forces, housing associations, charities, community groups and sports clubs.
Recent YouGov research commissioned by Resolve found that almost 1 in 5 people have had to consider moving home because of the impact ASB was having on them; 1 in 10 have actually moved. Despite this, over half of those surveyed who were either a victim or witness of ASB did not report the ASB.
Here at Red Kite, we're urging our tenants not to suffer in silence if they experience ASB. Incidents can be reported to our antisocial behaviour team, or to the police if people feel that they are at immediate risk or in danger.
Commenting, Paul, our Senior ASB Specialist said:
"Antisocial behaviour can have a significant negative impact on our communities, which is why we're so determined to focus on tackling these problems. To do this we've nurtured and continue to develop very close and mutually beneficial relationships with key partners such as Thames Valley Police, Buckinghamshire Council, and specialist support agencies and charities. We believe this is the most effective way to tackle deep-rooted problems and really make a difference to our communities.
"One of the difficulties people can face is knowing what they can do and who can help when ASB occurs. With this in mind we've added a comprehensive directory listing sources of help and support to our website. We would strongly urge anybody suffering ASB to take a look at this as a first step.
"We also recognise that sometimes disputes between neighbours can flare up over anything from noise to parking disagreements. Although these may not fall under the category of ASB, they can still have a hugely detrimental impact upon day-to-day life. Our website also has lots of tips and information to help deal with these problems, including links to our free conflict resolution service managed by Mediation Bucks."
Rebecca Bryant OBE, Chief Executive of Resolve added:
"ASB is not low-level. It can have a devastating and long-lasting impact on the lives of victims and communities and can be a precursor to more serious crime. It is important that the challenge of ASB continues to be given the priority it needs so that people everywhere feel safe in their homes and communities.
"We are delighted that Red Kite Community Housing is supporting this hugely important campaign. It is vital to develop partnership approaches across communities to deal with the growing challenges around ASB."