We're encouraging our tenants to hop on board the Multiply Bus – part of Buckinghamshire Adult Learning's free numeracy workshops – when it visits High Wycombe as part of its Multiply initiative from Monday (13th February).
Multiply is a new government-funded scheme, part of Buckinghamshire Council's new 'Opportunity Bucks' programme, to help adults (19 years+) who don't already have a maths GCSE at grade 4 (or equivalent).
Good numeracy skills and improving confidence in maths may unlock job opportunities and lead to higher wages or help prepare for further study. These skills can also help in everyday life, with tasks such as managing a household budget, getting a new job, or helping children with their homework.
The bus will help Buckinghamshire Adult Learning's team promote their free numeracy courses. Visiting the Multiply Bus gives you the opportunity to speak face-to-face with an expert who can help you find the right course for you.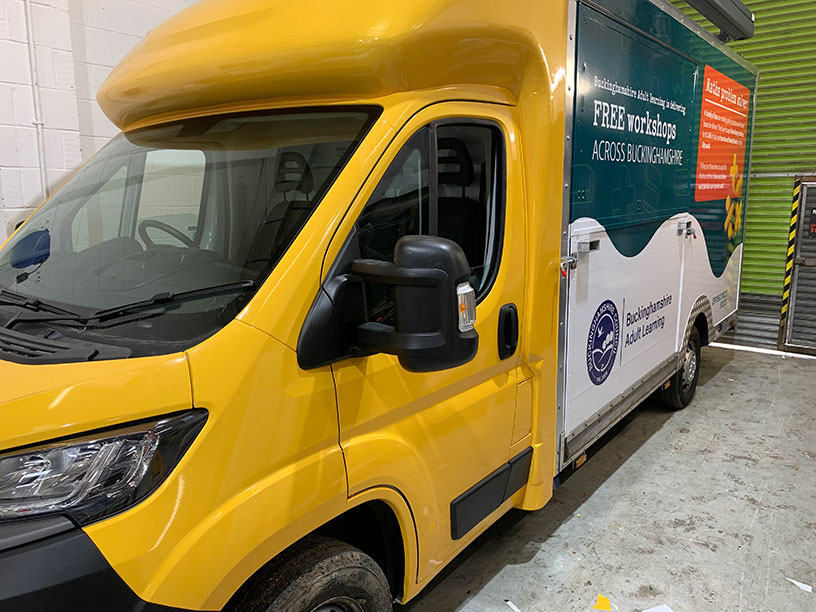 You can catch the Multiply Bus and see what's aboard on the following dates:
Monday 13th February

Eden Shopping Centre | 8am to 5pm
Oxford Rd
High Wycombe
HP11 2DQ

Tuesday 14th February

Hills Café | 9am to 12pm
162 Micklefield Rd
High Wycombe
HP13 7HA

Micklefield Community Centre | 12pm to 2pm
Micklefield Rd
High Wycombe
HP13 7FY

The Hive | 2pm to 5pm
1 Arnison Avenue
High Wycombe
HP13 6DD

Thursday 16th February

Millbrook Adult Learning Centre | 9:30am to 12pm
Mill End Rd
High Wycombe
HP12 4BA

Asda | 12pm to 5pm
Holmers Farm Way
High Wycombe
HP12 4NU

Tuesday 21st February

Eden Shopping Centre | 9am to 5pm
Oxford Rd
High Wycombe
HP11 2DQ

Friday 24th February

High Wycombe Market | 8am to 4pm
High Street
High Wycombe
HP11 2BN
Members of Red Kite's Community Engagement team will be joining the bus on Monday 13th February in the Eden Shopping Centre, Tuesday 14th at Hill's Cafe, Thursday 16th at Adult Learning in Mill End Road, Tuesday 21st at Eden Shopping Centre, and Friday 24th at High Wycombe Market. You'll be able to find out more about the work we do with our tenants and the opportunities and funding available.
Find out more about the online Buckinghamshire Adult Learning Multiply workshops, or for more information about all courses available email multiply@buckinghamshire.gov.uk or text/call 07977 155 937.