Staff at Red Kite Community Housing have ended the year on a high after being recognised for their outstanding efforts during the Covid-19 crisis by The British Citizen Awards.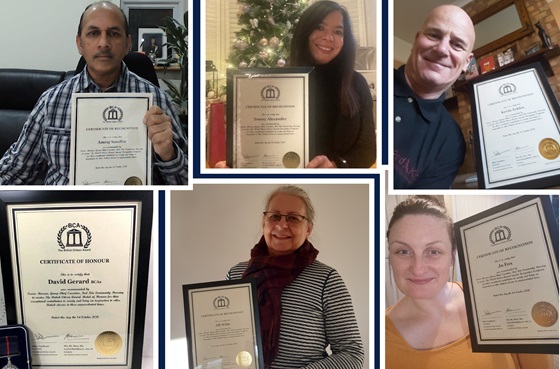 Trevor Morrow, Red Kite's Group Chief Executive, nominated staff who were working during the first coronavirus lockdown between March and June to be recognised for the work of the team to keep residents safe.
The Certificate of Recognition was presented to members of our staffing team for their contribution during the pandemic, and some members of our Emergency Response Team (ERT) received the coveted Medal of Honour for their exceptional contribution.
They were awarded their recognition at a special virtual meeting on Wednesday 23rd December.
Mr Morrow said:
"We have spent a lot of effort over the years in building our culture and recruiting great people that fit and embrace that culture. So, when the Covid challenge struck, everyone rose to the challenge.
"We had a well-practiced Emergency Response Team in place from the early days of Red Kite's creation, providing a strong emergency planning capacity. We have run regular simulation events to test our ability to respond to various events over the years. This level of preparedness proved invaluable as we faced the Covid crisis."
Patron of The British Citizen Award, The Rt Hon. The Lord Dholakia commented:
"The endeavours of these deserving individuals should not go unrecognised during these unprecedented times.
"Overnight many became essential and key workers, people relied on them being there to enable a form of normal life. Throughout, they have faced the fear of the unknown, overcome safety concerns, protected themselves, their families and customers, and all of this is to be commended. They are all amazing people who have given selflessly in the pursuit of helping communities. They all deserve this recognition".
As we continue to live life under different guidelines, the importance of organisations who reach out to communities on a daily basis becomes ever more significant.
Founder of The British Citizen Award, Mike Faulkner commented:
"Thanks to this special group of people and others like them up and down the country, the lights stayed on, the nation stayed fed, the vulnerable were cared for and those that needed assistance received it. These exceptional times call for a monumental effort, and the organisation's recognising their people in this way are making a monumental difference. They deserve more than a moment in the spotlight, so we hope they take pride in this recognition, as we are proud of them".
The British Citizen Awards were established in 2015, to recognise exceptional individuals who work tirelessly and selflessly making a positive impact on society. It recognises true community heroes who may otherwise be overlooked.