On Monday 25th November we celebrated our Job Club's 2nd birthday with tea and cake for our partners and volunteers who have helped it grow into the success story it is today.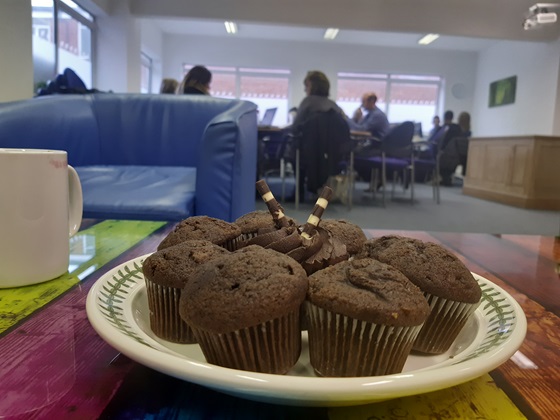 Since we launched Job Club back in 2017 we have helped hundreds of people by giving them the opportunity to speak to professionals who can give advice on volunteering, gaining qualifications and applying for jobs and interview tips as well as meeting similar people in a supportive environment.
For many clients coming to the Job Club is just the first step on their journey to employment. Many clients have gained English, Maths and IT qualifications at Bucks Adult Learning whilst others have gained their CSCS construction or SIA qualification through Building Futures.
As well as meeting in a supportive environment, everyone is given the opportunity to use the computers or search and apply for jobs. Partners and volunteers help with CV creation and updates.
The Job Club, which is held every Monday from 10am to 4pm at Baker House in Baker Street, High Wycombe, is run in conjunction with Oasis Partnership, National Careers Service, Bucks Adult Learning, Building Futures and Aspire Oxford.
Each week up to 30 people attend the Job Club which is open to everyone in the district, not just our customers.
Damon Venning, Relationship Growth Manager, said:
"when we first had the idea of a local job club it was important for us to work with a group of local partners as we were aware there are many barriers for people on their pathway to work. Through working with our partners, the Job Club has developed into a community hub where people are able to network with other job seekers and share their experiences that give confidence to develop further skills."
One of our most memorable success stories belongs to Michelle who came to the Job Club homeless and living on the streets, but was willing to work with Oasis Partnership.
We were able to support her in areas such as housing, opening a bank account, applying for benefits and she was supported through further training by Bucks Adult Learning.
In the last six months she attended our Inspiring Women event and is keen to keep in touch with the networks that have formed. She now has a flat and is established in the local community as well as aspiring to set up her own small business. This is all due to the partnerships established at our Job Club.
Another customer said:
"I've been coming to job club for the last three months and everyone is so welcoming. I've been to clubs like this before but this is by far the best. They understand my situation and really try to help."
Colin McGregor-Paterson, CEO of Oasis Partnership, said:
"Working together with Red Kite and other partners has enabled us to provide the sort of service that is really needed but is not available elsewhere in the community. This service can continue to go from strength to strength and we look forward to a positive future."
Tevlick Soueliman, NCS Team Leader for Oxon and Bucks of National Careers Service, said:
"Our ability to provide targeted one to one support to our customers has meant that we have had the ability to support those who would not have normally either engaged with our service or who were simply unaware that they were able to access free careers guidance and support."
James Keen, Community Outreach Officer for High Wycombe Buckinghamshire Adult Learning, adds:
"The face-to-face opportunities at Job Club allow us to alleviate any fears or concerns that learners may have if they have had a bad experience of school and learning. Working collaboratively with the other partners allows us to present the participants with a whole package to improve and help them move on and achieve their goals for the future, thus making their lives better, giving them the skills and knowledge to achieve."