Wycombe Wanderers Sports and Education Trust were ecstatic to hear the news that we had awarded them £17,879 from our Springboard Fund.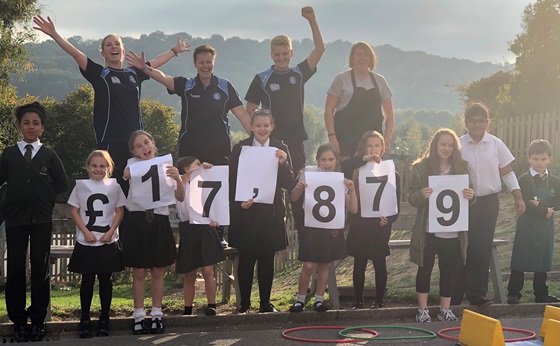 We have supported the Fit and Fed project since it was launched back in the Summer Holidays in 2017. This new injection of funding and support will help the project continue to grow.
The Fit & Fed project looks to help families that 'feel the pinch'. Empower to Cook and Khepera provide children and their families with cooking tutorials, fun physical activities and a free meal for the whole family, ensuring children go back to school fit and healthy.
It is staggering to think 60% of families can't always afford food during the holidays, and that young person loses up to 80% of their fitness during the school summer holidays. Something the Fit and Fed Project hopes it can reduce while bringing our community together at the same time.
Each Fit and Fed day sees Sam Parker, Community Health Manager at Fit & Fed, a representative from Empower to cook and Khepera, and a band of willing volunteers bring fresh food and ingredients down to Castlefield Community Centre or Beechview Academy in High Wycombe, so they can provide cooking lessons and tutorials to the children that attend. They learn the basic skills necessary for later in their lives. Not only do they cook simple recipes such as vegetables, pasta, and salads, they managed to cook stews and make smoothies too. The best bit is that they can eat all the meals they make at the end!
Alongside the healthy cooking, the Fit & Fed team also supply the children with fun activities to ensure they are active and increasing their fitness level, whilst enjoying and playing fun games and sports.
So far (since Summer 2017) over 761 meals have been supplied and many families supported throughout the holidays. In addition to the summer holiday club there is also an after-school club at Beechview Academy providing the same support and enjoyment for five weeks over each school term.
Sam Parker, WWSET Community Health Manager said:
"It is a privilege and a pleasure to deliver this project for the local children and help the families that struggle financially to feed their children both within the holidays and term time.
"It is a joy to see families bond within our sessions, providing a chance to get away from screens and enjoy doing something with the family."
Caroline Green, People & Community Development Manager at Red Kite Community Housing, said:
"We are delighted to support Fit and Fed, run by Wycombe Wanderers Sports and Education Trust, which is a charity we have worked with for a number of years. We feel the money we are able to donate to them will help to improve the lives of people within our community. This is exactly the reason our Springboard Fund was set up.
"We look forward to working with Fit ad Fed and can't wait to see how this money helps them to grow."
Every year for the next five years Red Kite Community Housing's Springboard Fund has £100,000 to invest in the community - find out more and apply for funding.