Since 2015, Red Kite has given over 50 local residents the opportunity to come on a free course to learn how to set up their own business. Our workshops have been a resounding success and as a result a number of our graduates are well on their way to establishing successful businesses.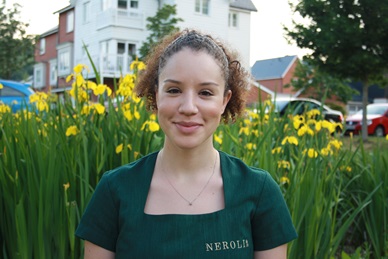 In 2017 Zanna Maison graduated from our 12-week business start-up workshop run by Enterprise Cube, and has since started her luxury mobile massage business Neroli and Co. Since graduating a year ago, Zanna's business is growing steadily and is going from strength to strength. Speaking with Zanna recently, she shared her experience of the course and how to tackle the fear factor of starting your own business.
"The course helped give me direction and stay focused and motivated, I always had a vision of what I wanted to achieve, but the course helped me direct and focus those thoughts towards achievable goals."
Naturally there will always be nerves when going into a new venture, Zanna advised:
"There will always be setbacks and reasons not to do it, but if you have a vision and a strong mindset you will make it happen. There will be times where motivation is low and you feel like you've hit a brick wall, but the course offered lots of additional support after graduation so I could always ask questions, and also a chance to network with others who were in the same boat as me, so I never felt alone in it"
When talking with Zanna it is clear the road to starting Neroli and Co. has not been an easy one, but the passion and drive she has for starting her luxury massage business has helped her to remain focused.
"There was always a fear that my business wouldn't be perceived the way I wanted it to, and it was important for me to create a professional service with a personal touch. I did lots of odd jobs wherever I could to pay for my advertising and photoshoots and offered lots of free events in order to build my client base. Starting your own business is always going to be a journey, but it has all been worth it."
Neroli and Co has now gained a great reputation in the Buckinghamshire area, offering luxury mobile massage. Business has been growing progressively for Zanna and her team and we can't wait to keep watching her business thrive.