Red Kite Community Housing tenant Charles Rowden has donated the money he won in a competition to Thames Valley Air Ambulance in memory of his late wife.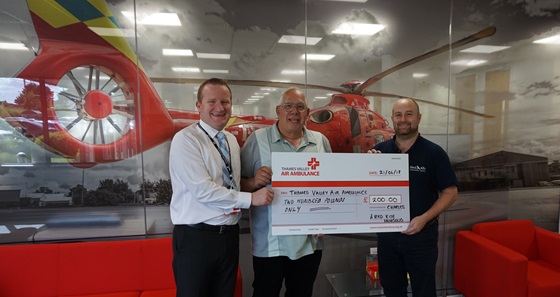 Mr Rowden, 73, of Lane End, won a competition after signing up to pay his rent via direct debit. Every customer who set up a direct debit in December and January was entered into a prize draw with £100 up for grabs for the winner.
Mr Rowden was told he had won just days after his wife Jean, 72, had died of heart failure.
He explained:
"Jean died suddenly after suffering massive heart failure in the middle of the night at our home. It was such a shock and a really dreadful time.
"When I heard we had won the competition I knew straightaway that I wanted to donate the money to charity and the Air Ambulance was Jean's favourite one, so it made perfect sense for it to go there."
Red Kite then matched the amount, so £200 has been donated to the Stokenchurch-based charity.
On Thursday 21st June Mr Rowden handed over the cheque to Neil Harman, Interim Director of Fundraising, along with Geoff Keen, Relationship Specialist at Red Kite.
Mr Harman said:
"We are extremely grateful to both Red Kite Community Housing and Charles for their kind donation to Thames Valley Air Ambulance; £200 could keep one of our emergency response vehicles on the road for four days, bringing the expertise, medication and equipment of the hospital to where it is needed most.
"Having lost his wife earlier this year, Charles explained that donating his prize money would have been what she wanted, and that she would be smiling down on Red Kite for matching his donation."