We are delighted to say that we have achieved 'One to Watch' accreditation from Best Companies, the employee engagement specialists.
The recognition comes after a great score on a recent Best Companies staff survey, which examined the ins and outs of our company life. The survey, which we took part in earlier this year, revealed how our employees really perceive our work environment and culture, which are really important elements for our colleagues.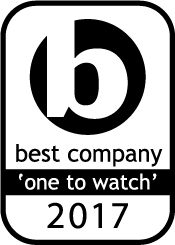 Trevor Morrow, our Chief Executive, thinks it's a pretty wonderful achievement, saying:
"I'm chuffed that we've been recognised in this way. Since we started Red Kite in 2011, we have spent a lot of time creating a culture where our staff feel comfortable at work, making the most of the environment we have created that is innovative, fun and friendly.
"We take care of our colleagues and put a real focus on enjoying work and loving what we do, so this accreditation makes us really proud that our original intention to create a great place to work, has been recognised."
We genuinely believe that if you enjoy your work, you will be great at it, so through a combination of different things, we make sure that as much as possible, all of our staff want to come into work and do a good job. Some of the things we think are unique about us are:
We focus on creating the right environment to breed innovation - Wednesday mornings are all about being creative, making time each week to encourage new ideas and concepts (and break and fail with things) accepting that not everything will work
Our culture is open, fun, creative, relaxed, friendly, homely/like a family, comfy and familiar
We care about people and we want to have fun at work and enjoy it, so we consciously create an atmosphere that sees people smiling
We try to ignore boundaries – it's better to think massive and scale back, rather than being sensible and expecting innovation and more efficient ways of working to come from predetermined parameters
We look outside our sector for inspiration – we seek out totally unrelated principles that work elsewhere and explore what elements can be applied here
We share our thinking, getting lots of people involved at the start of an idea, plant a seed and let it grow – we keep coming back to something and make small changes or suggestions to make something even better
We are super creative – we use google translate in reception, we trialled an avatar powered search engine, we build and design our own stuff, we have a 360 degree camera and a drone because they are cool and make our jobs so much easier (and we spend less money), we've tried augmented reality, we build whole new computer systems because we can and they work! We have QR codes in reception and we use live streaming so customers can talk to us
There's a buzz when you walk around the office, with people laughing and enjoying time with their colleagues
Our offices are great and we are based in a beautiful part of the world