We've done it! We've delivered all of the promises we made 5 years ago!
It feels like just yesterday when we were poised to sign our transfer agreement with Wycombe District Council, that would see the start of all these promises being delivered under the ownership of our brand new, community focussed and tenant-led housing association.
And what has been achieved in that short space of time is nothing short of outstanding, so we want to take the time to celebrate those achievements and say thank you to every person – tenant, leaseholder, volunteer, staff member, Board member and partner organisation – who has been involved in our success and without whom we would not be here.
Those promises included things like:
Installing 3,774 new kitchens, 3,666 new bathrooms and 2,951 new boilers
Installing 3,666 new doors, 434 electrical re-wires and 650 new roofs
Fitting 500 homes with new double glazing and 468 with upgraded door entry systems
Spending £500,000 on parking and hard standings and £500,000 on disabled adaptations!
Refurbishing garages and starting a new external decoration programme
Setting new timescales and appointments for repairs and making security improvements!
Introducing new assured tenancy agreements, improving consultation on improvement work and creating a better feedback process!
Improving insulation for Wimpey No-Fines homes and converting bedsits to provide more homes
Installing thousands of new soffits, fascias and guttering and working with new high quality contractors!
Making sure our customers had many great choices for work being carried out in their homes
(read the full list of promises here)
In a special edition newsletter that we have put together with the Bucks Free Press, we look back at the thousands of improvements we have made, the incredible changes in our communities, the development of people and businesses and the way that, we believe, we have changed the face of social housing in our local communities. Read the newsletter here.
As well as this newsletter, we are also marking this occasion by:
Planting five tress in the Wycombe district to symbolise each year of our transfer period – the cherry trees will be planted by Jennie and Trevor on Thursday 15th December at Owl Park in Bowerdean and will have a plaque put up alongside them to mark their existence and our achievements
Presenting a plaque to the Chairman of Wycombe District Council to formally mark the end of our transfer period and capture that symbolic moment from five years ago
Opening up our staff discount website to all of our members and volunteers, so that you too can benefit from reduced costs in local shops and online
Sending each of our customers a copy of the newsletter and a branded shopping trolley keyring so that they have a little memento from this day
Entering all of our customers who have never been in arrears, into a competition to win £500 – we kept our promises, so we wanted to say thank you to those who kept theirs when it comes to rent payments.
It goes without saying that this really is an historic moment for all of us and our Chairman Jennie says:
"Our customers voted for transfer because we promised something very different, something much better – and that's exactly what we have delivered. I'm incredibly proud of Red Kite and that we have stayed true to our values of involving our customers in everything we do. They have shaped and influenced Red Kite far more than we could have hoped for and I can't wait to see where we go in the future."
Trevor Morrow, our Chief Executive said:
"Now that we have done all we said we would, both on time and under budget, we look ahead to our exciting ambitions that will see us build brand-new homes, build thriving communities, work even more closely with our customers to help them manage their homes more independently, and increase our investment to create more opportunities in our local area."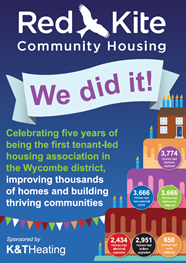 Here's to a bright future!