Towards the end of last year, we were approached by a tenant from Cumbrian Way who had caught their neighbour (a private owner) fly-tipping on the Imbies Estate.
We reported this to the Waste Enforcement Team at Buckinghamshire Council who subsequently questioned the perpetrator under caution.
He admitted to the offence and the Council offered him the chance to escape a criminal record on this occasion if he paid our removal costs of £159.60. Those costs have now been paid in full. We work closely with Buckinghamshire Council Waste Enforcement Team to ensure perpetrators are brought to justice!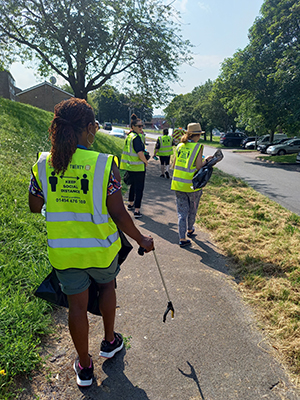 Unwanted bulky items?
Did you know that you can arrange with the Council to come and collect your unwanted bulky items? They can collect all sorts from carpets, beds, mattresses, furniture and domestic fridges and freezers. They even offer a discount if you're in receipt of income-related benefits. Take a look at the Buckinghamshire Council website for more information.
Want to know which bin to put something in or where to take it?
On the Buckinghamshire Council website, you can search for an item and they'll tell you how to recycle, compost or dispose of it! Visit the waste wizard.
Thinking of taking your rubbish to a household recycling centre?
Before you go, take a look at the web cam to see how busy it is. If you're wondering how it works, what you can take, or whether or not you'll be charged, take a look online.