Over the summer we have been working in partnership with local school Beechview Academy and our contractors Axis to help make improvements to the school. On their first visit, one of our Axis team spotted an unused, run-down classroom with an asbestos problem that the school had been struggling to deal with and so arranged for Axis to redo the entire classroom over the summer holidays.
We're delighted to report that Axis have now completed a fantastic transformation of the classroom at Beechview Academy, including the safe removal of the asbestos floor tiles and full redecoration of the room with new carpet, new lighting and new ceiling tiles. This supports all the wonderful work that new Headteacher Angus Blackmore has been doing at the school to help turn it around.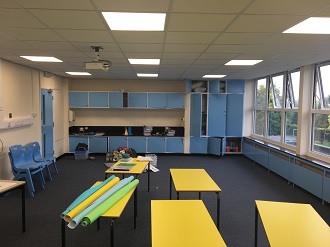 Beechview Academy had been in special measures for a number of years and this had had a negative impact on the quality of education and the school environment, with many classrooms being closed and remaining unused. Since his arrival, Mr Blackmore has been busy implementing his creative visions for the space, inspiring the children and bringing the local community together. He has reopened classrooms and started a wonderful community garden (which our staff helped out with on Community Morning earlier this year), where children can grow their own produce and cook it in the newly reopened school kitchen. Mr Blackmore also had a great idea to allocate some of the school's garden space for allotments so that local residents living in our homes could use them to grow their own produce. Axis offered to build a fence and gate for the school so residents could access the allotments and kitchen from the street and, to top it off, social enterprise Empower To Cook will be running community cooking lessons using what they have grown – what a fantastic way of bringing the local community together!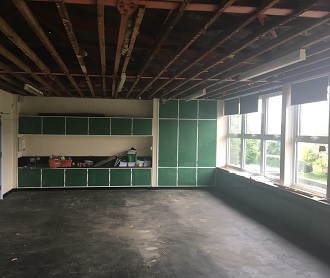 The children at Beechview were over the moon with their shiny new classroom, which is unrecognisable now, and so grateful. Axis's generosity coupled with Mr Blackmore's drive and vision to improve the school's environment will ensure a better learning environment for the children and help bring the local community closer together at the same time. Beechview Academy now has 200 pupils enrolled – what an achievement – well done everyone!