On Tuesday 9th May, Hannah Shorter became our first ever customer to sign up to a brand new five-year Fixed Term Tenancy (FTT), having successfully completed her 12-month starter tenancy.
As the first ever customer to successfully complete a 12-month starter tenancy and be granted a fixed term tenancy, Hannah will enjoy the benefit of engaging with staff to help her realise her potential over the next five years and make decisions about whether her home remains suitable for her needs.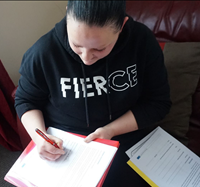 Traditionally, new customers signing up to a Red Kite tenancy would stay in their existing home, but with our new FTT, there is the opportunity to review a tenant's housing situation as household size and income change, so we can be even better at matching people to the right homes they need and can free up homes quicker than we can with lifetime tenancies. Five years will give the customer a stable home at a rent they can afford, after which they may want to move into the private sector or alternative housing as their circumstances improve, or their situation may mean they are offered another fixed term tenancy.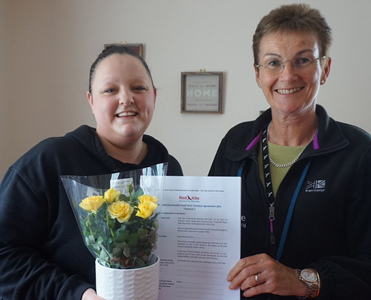 Hannah is the first person to sign up to a tenancy with these conditions and opportunities, and she's really looking forward to having the flexibility that it offers.
"Knowing that I have options and there is support available from Red Kite if the time comes that I need to think about my home, is really great", said Hannah.