Having recently given £3,000 to Hazlemere Parish Council to refurbish the local recreation ground, we are delighted to share that it has had an immediate positive impact on the area, and our local people.
The Parish Council bid for money from our Community Fund to improve the play equipment in the park for both able-bodied and disabled children who use wheelchairs and otherwise struggle to enjoy facilities such as these.
David Thompson, Chair of Open Spaces said:
"I would like to express our sincere thanks for the generous Red Kite donation that has been used to refurbish Hazlemere Recreation Ground - the outcome has been even better than we hoped.
"Not only has the community expressed its appreciation of our endeavours but we have discovered a nearby charity-run residential care home, Cotswold Cottage, that has been able to put the park into great use."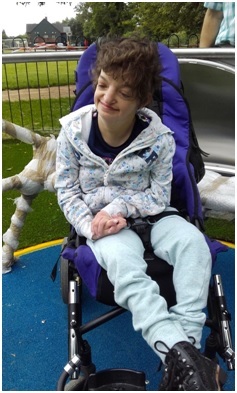 One resident of the home in particular has been thoroughly enjoying the new facilities. Sarah is a 35-year-old woman with both physical and mental disabilities. Her parents took her to the play park even before it was open, and then sent a photograph of Sarah in her wheelchair on the roundabout. Sarah's smile is rarely caught on camera, so it is truly heartwarming to know that the new equipment is already bringing so much joy.