On Friday 14th October, students from Piper's Corner School visited Red Kite customers who live at Nancy Hall Court and New Road Gardens sheltered schemes to share specially wrapped, handmade harvest baskets to celebrate the Harvest Festival.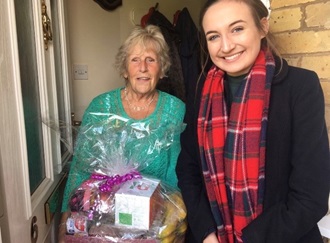 With a van packed full of food parcels, the girls gave out beautiful baskets that created indescribable joy for those who received them. Some residents knew to expect a visit, but for those who didn't, it came as a complete surprise and was really appreciated.
The girls said that it was clear to see they were so grateful for something that to a lot of people, seems nothing special, and after they put in so much effort they were delighted to have made a real difference. The students were from Mandeville House at Piper's Corner and they would like to thank everyone who contributed.