Last month, a K&T Heating engineer was presented with a Customer Service Award for the support he provided to one of our tenants.
Aiden, who is a service and repair engineer, went to visit one of our tenants, to carry out a repair. When he arrived at her home, he found that she had fallen over and seriously injured her shoulder. After making sure that help was on the way, Aiden then waited with her to make sure she was properly taken care of by the ambulance service.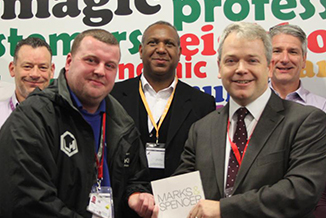 When asked about his actions, Aiden said that it was "what anyone would have done" and that they see many different things as engineers, but that they are always here to help. Aiden was presented with his award by John Lewthwaire, Group Business Improvement Director for Lakehouse (who manage K&T Heating) along with £100 of Marks & Spencer vouchers.